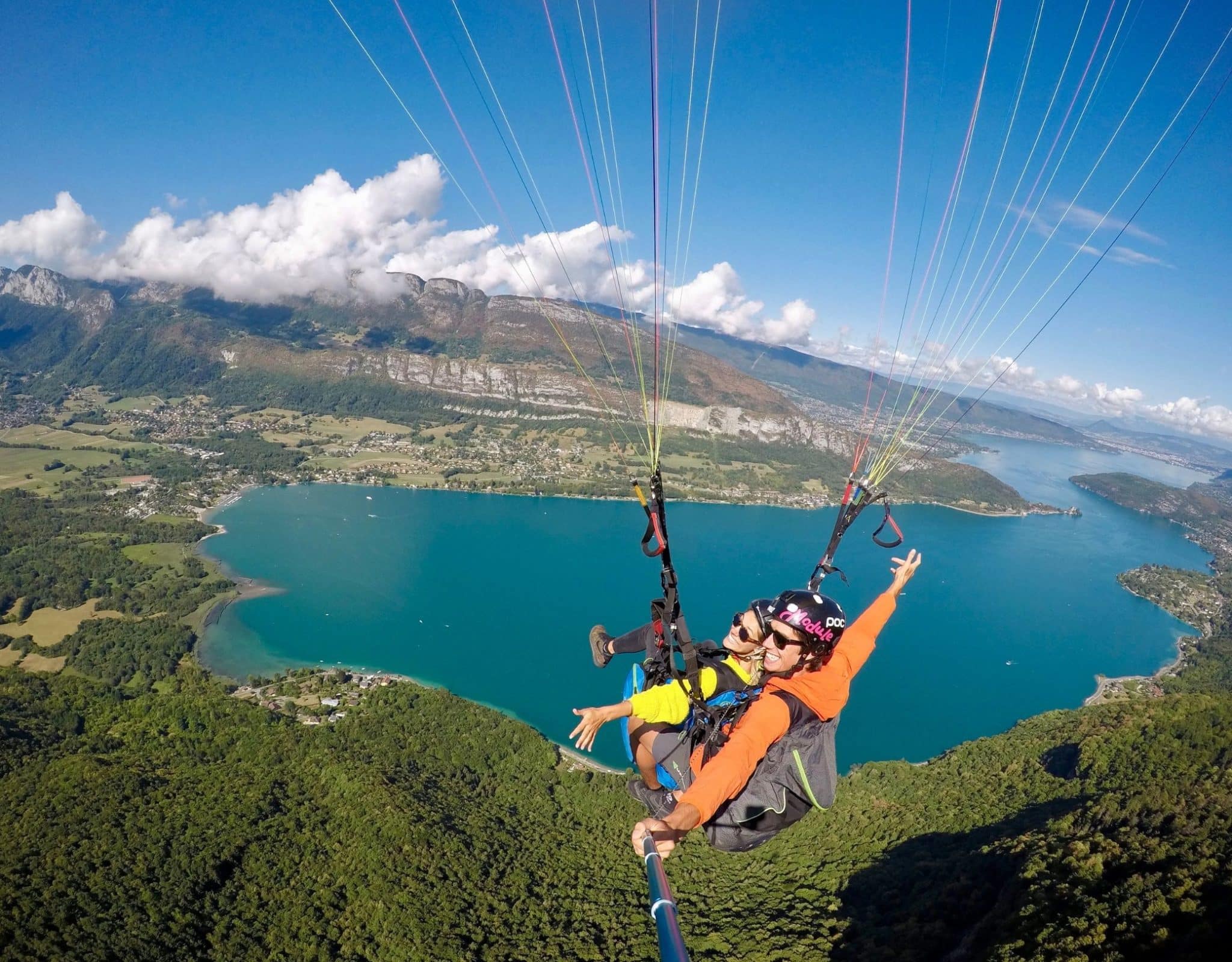 They loved it… a paragliding flight with K2outdoor!
Would you like to take off from one of the most beautiful spots to paraglide in France? Eric and Catherine did and just loved it! To experience such a fabulous adventure, they chose to fly with the team at K2. Here is what they have to say: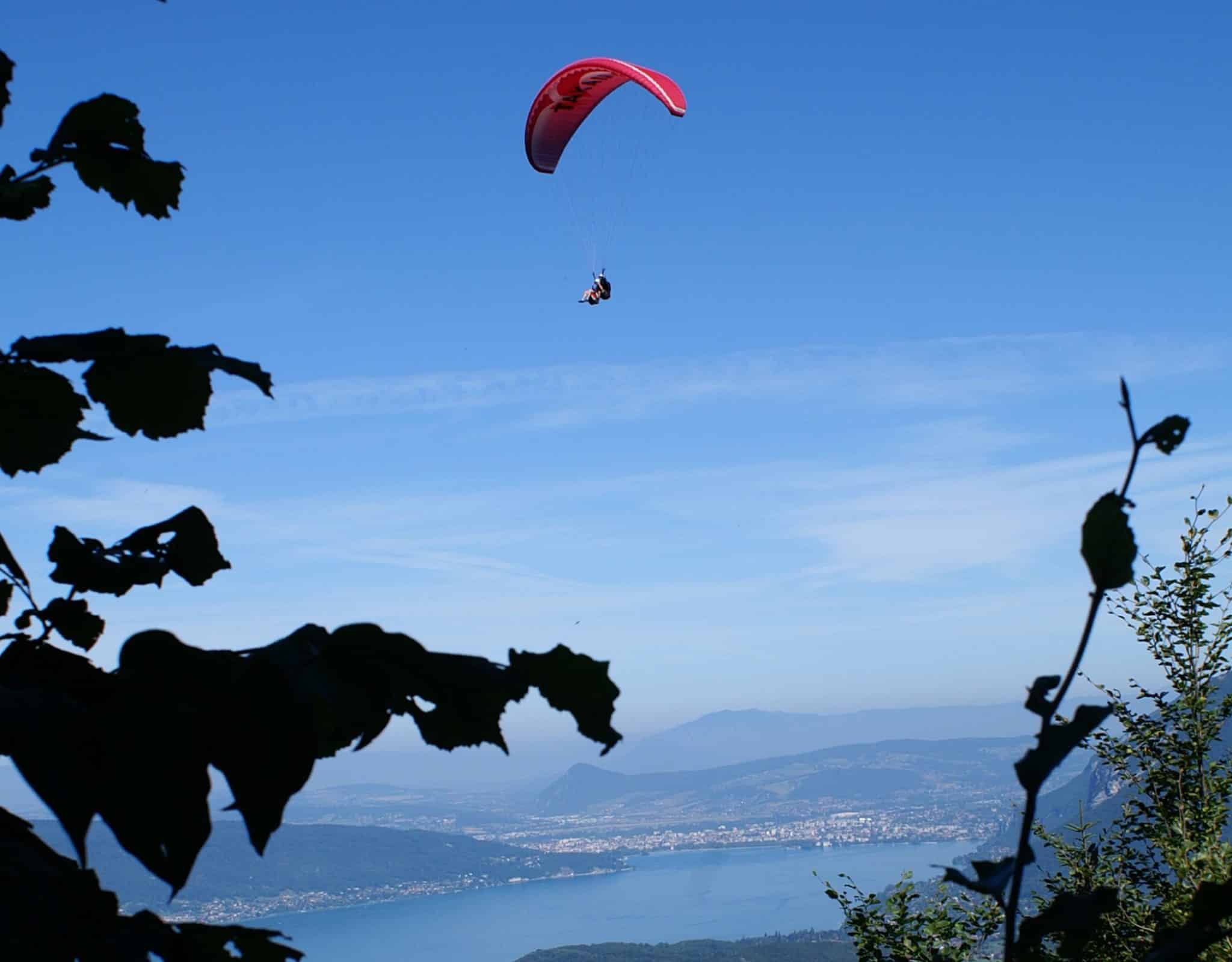 During a weekend trip to Sources du Lac d'Annecy we decided to take the plunge.
At their shop in Doussard, fifteen minutes before our flight, the well-intentioned team welcomed us with a smile. They carefully explained and provided instructions for everything about our tandem flight. We then loaded the gear, took our seats in the vans for the ride to the amazing location of the takeoff area: Col de la Forclaz Pass.
It took just twenty-five minutes to climb to the takeoff area's 1150 meter elevation. Although slightly anxious, our stress dissipated once we stepped out of the van: the breathtaking views of Lake Annecy simply left us speechless. We had never seen the lake from this perspective, and magnificent does not begin to describe the landscapes.
There's no time for distractions, we need to put our gear on.
Get ready for takeoff!
We carefully listen to Christophe and Maxence repeat their instructions one last time right before we take off. On their countdown we start running as fast as we can towards the lake and down the steep-sloping launch. The feeling of diving into the void is stomach dropping, but quickly the wing inflates and lifts us into the sky. At this point we just comfortably sit back in the harness and enjoy the view. The contrast between the lake and the surrounding mountains is striking.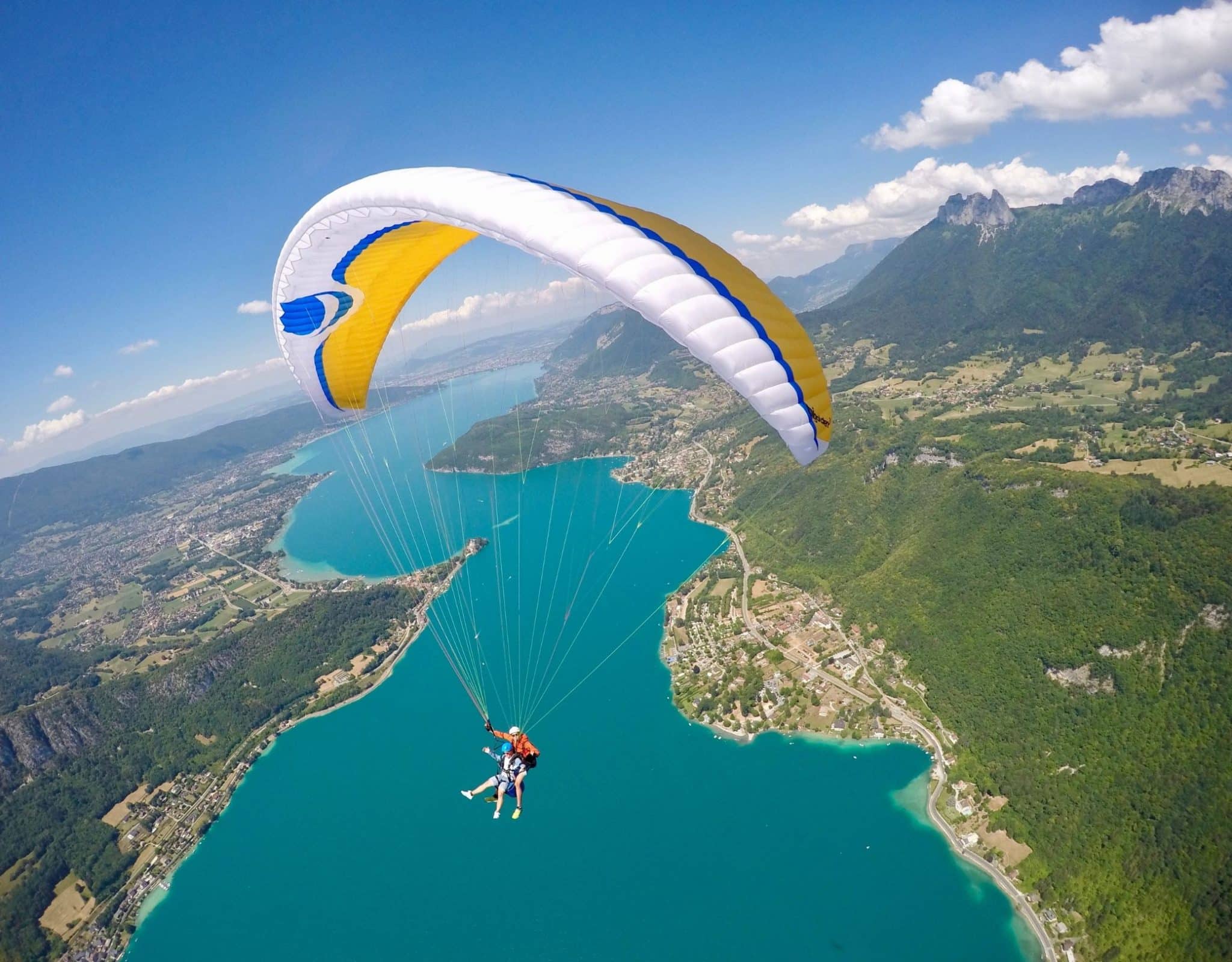 During the flight, the instructors tell us a few stories about the lake and mountains, and a few neat facts about the local flora and fauna. They offer us the chance to take over the controls of our "aircraft"; now we feel like pilots. With the controls in our hands, we let the wind guide us as we go to and fro at will.
Both real pilots take back control of their wings and ask if we would be interested in experiencing a few basic aerial acrobatic maneuvers before landing. Conditions are ideal for a few basic acrobatics. They make several steep turns to the right and then to the left: the landscapes seem to spin all around us. We were looking for thrills and definitely got our fill!
All good things come to an end, and the time came to prepare for landing to return to terra firma. On the pilot's signal we needed to slip out of the incredibly comfortable seat, stick our feet out as we hit the ground, and then start running. And that's it. A nice, soft landing.
When the wing falls to the ground our flight is officially over. Our heads now overflow with great memories of this truly amazing adventure.
Reserve your flight