Infos
Horaires
From 19/06 to 02/09 Opening hours on Monday, Tuesday, Wednesday, Thursday and Friday between 2 pm and 6.30 pm. On Saturday between 10 am and 12 pm and between 2 pm and 4 pm. Closed on Sunday. From 03/09 to 18/06. Closed on Sunday. Closed exceptionally on January 1st, May 1st, May 8th, November 1st, November 11th and December 25th. By appointment for groups every day of the year. Wednesdays from 1:30 to 5:00 pm by appointment only (minimum 5 people).
Tarifs
Du 19/06 au 02/09
Adult 3.5€
Child 2.5€
Group adults 3€
Group children 2€
Du 03/09 au 18/06
Adult 3.5€
Child 2.5€
Group adults 3€
Group children 2€
Moyens de paiement
Check, Travellers Cheque, Cash
Langues parlées
German, English, French
Galerie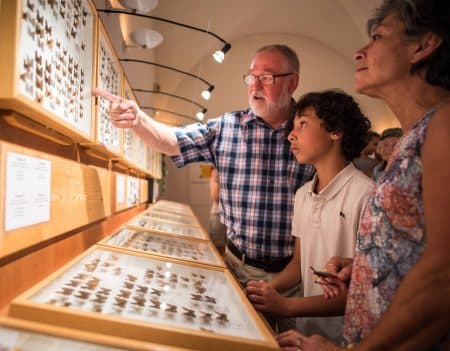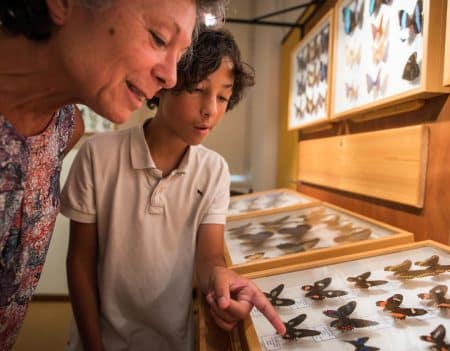 Prestations
Parking
Coach parking
Toilets
Car park
Guided individual tours
Unguided group tours
Guided group tours
Educational visits
Set down on-site for groups
Guided tours
Unguided individual tours
3 rooms with over 5000 butterflies and insects from the 5 continents. The 1st room contains European fauna, with a special focus on the diurnal butterflies from the Massif des Bauges Regional Nature Reserve. The 2nd room offers a rich insight into the butterflies and insects from the Upper Amazon Basin. In the 3rd room, visitors can look at butterflies from Africa and Asia as well as stunningly spectacular giant insects. An area is dedicated to temporary exhibitions: since 2022, an exhibition on the endemic fauna of Madagascar with more than 300 butterflies and insects from that area. To round off the tour, live insects are on display in terrariums (currently under work).