Infos
Horaires
All year round, every Saturday between 9.30 am and 12.30 pm. Closed exceptionally on January 1st, Easter Monday, Feast of the Ascension, Whit Monday, May 1st, May 8th, July 14th, August 15th, November 1st, November 11th and December 25th. Friday afternoons: present at the Farmers' market in Faverges.
Moyens de paiement
Check, Cash
Galerie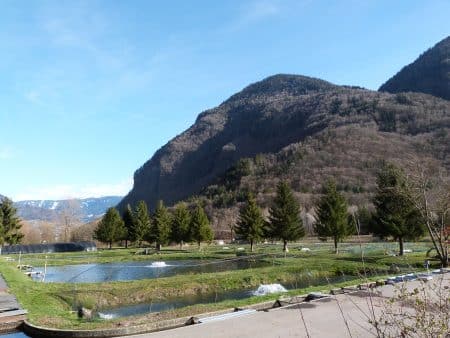 Prestations
Sales on site
Sale on the markets
Sale on collective point of sale
Live sale at the farm during the opening hours. Sale in producers' shops: « Saveurs de nos fermes » in Gilly sur Isère (73) « Saveurs campagnardes » in la Motte-Servolex (73) « Côté Fermier » in Drumettaz (73) « Pays'Art » in Albertville (73) « Jardin des Gayots » in Saint Pierre d'Albigny (73) « Terre Ferme » in Cruseilles (74) « La Fruitière du Mont Blanc » in Domancy (74). Sale on the markets: Markets in Sevrier (4pm-7pm Thursdays), Farmers' market in Faverges (4pm-7pm Fridays).
Adresse
Morel pisciculture
31 chemin des Grandes Pierres
Les Molettes Val de Chaise
---